ABOUT US
LafargeHolcim is the industry leader in the building materials industry.
We conduct our business in a manner that creates a healthy and safe environment for all stakeholders – our employees, contractors, communities and customers – built on a sound health and safety culture.
Health and Safety is our core value. We believe in visible leadership and personal accountability for Health and Safety at all levels and throughout our organization.
Readymix Qatar is a Joint Venture Company, which was established in 1977 in Qatar. Readymix Qatar went into production in March 1978 with one batching plant in the Old Airport area of Doha. The company holds ISO 9001:2008, ISO 14001:2004, OHSAS 18001:2007 and ISO 39001:2012 certification.
The Managing Partner is LafargeHolcim, born of the merger of Lafarge and Holcim in 2015. With over 180 years of combined experience and operating in around 80 countries LafargeHolcim has a global and well-balanced footprint.
OUR MISSION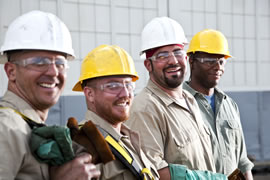 SAFETY
Safety is the most important of our core values. It is our first priority during every work day.
COMMUNITY
Involvement in and support of the community are at the heart of our company.
SUSTANABILITY
Readymix commitment to green building and sustainability is long-standing.
OUR COMMITMENT
Conduct our business with a goal of zero harm
Provide safe, healthy and secure work conditions for employees and contractors.
Maintain a global Health and Safety Management System designed to continuously improve our performance and actively minimise risk in our business.
Comply with applicable legal, regulatory, industry and corporate requirements.
Communicate openly with all stakeholders on relevant health and safety issues.
Empower all employees and contractors to stop any unsafe work.
SAFETY
Everyone home safely, every day.
INTERGRITY
We have operated with an unwavering commitment honesty and integrity.
VISION
Dedication to the success of our clients and our people.
MISSION
To promote a seamless and positive experience with excellence and innovation.
QUALITY
We are committed to provide our clients highest quality works.
INNOVATION
We seek creation and continue to work hard to satisfy our client's expectations.
CLIENTS
Clients come first in everything we do.
COLLABORATION
We believe in teamwork, collaboration creates amazing results.
Code of Conduct
Acting with integrity and living the right behaviors is critical to fulfilling our role as a good corporate citizen in the communities we operate in and supporting their healthy development. Integrity is therefore one of the core values we have defined as a building block for our corporate culture that describes who we are, what we do and how we behave.
Discover LafargeHolcim's Code of Conduct
LafargeHolcim strives to create an environment where honesty and accountability flourish and compliance is a central focus. Using common sense and good judgment together with our Code and LafargeHolcim policies and directives will usually be sufficient to ensure business is conducted with integrity.
The Code of Business Conduct ensures that all directors, officers and employees share LafargeHolcim's commitment to conducting business with integrity, and provides guidance on how to put this commitment into practice. It also helps to ensure that we are adhering to the laws and regulations in the countries in which we operate.
Code of Conduct for Suppliers
LafargeHolcim seeks to engage in long-term relationships with Suppliers that are committed to sustainable development. Our goal is to partner with Suppliers to deliver value-for-cost procurement for the Group and our customers, and to demonstrate responsible supply chain management.